Cancer in Pets: Supplements for Pets with Cancer
In order to provide a total solution for pets with cancer, besides Antican®, Vetco has also developed supplements for pet cancer, which are produced in high quality and specification, and passed through SGS tests.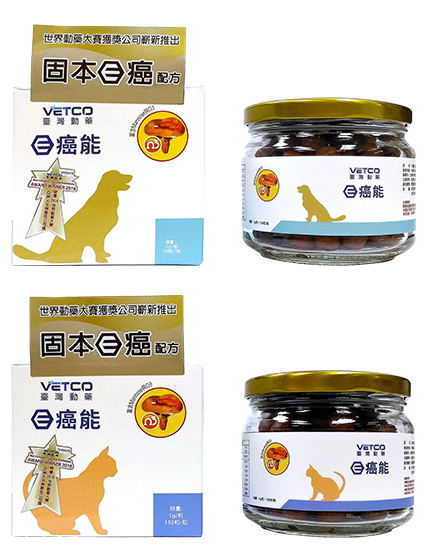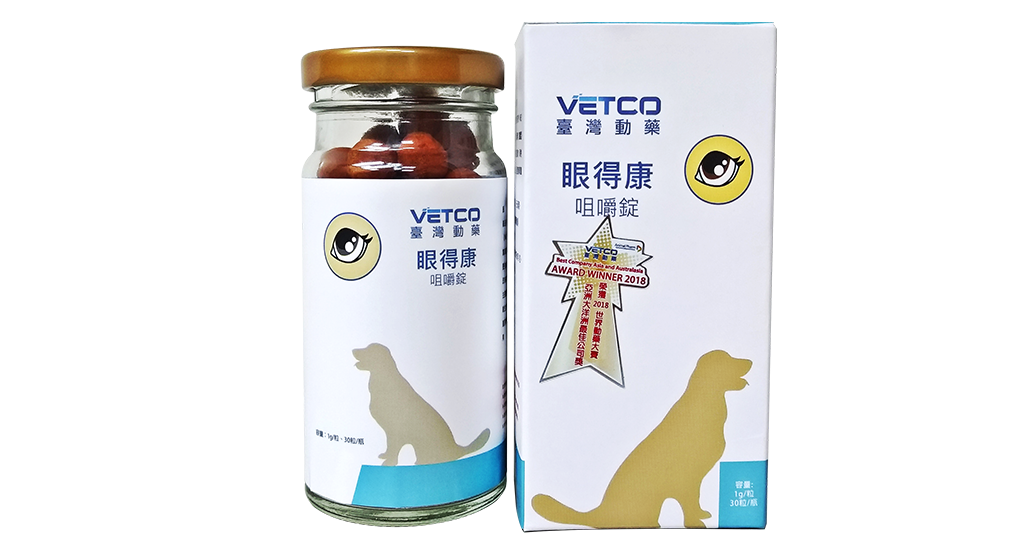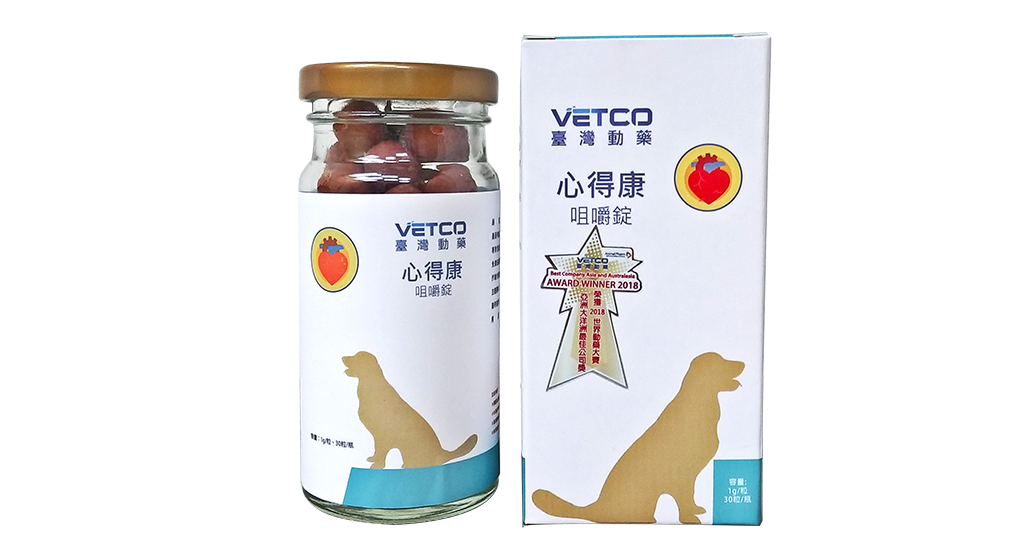 Antican® Synmax: Pet Cancer Supplement
Antican® Synmax with effective amount of mannose, is rich in optimized ratios of omega-3, omega-6 polyunsaturated fatty acids(PUFAs) and adequate amounts of selenium. Moreover, it contains a variety of nutrients to improve the nutritional status of pets with cancer and to interfere the metabolism system of the tumor.
Dosage for dogs:
1 chew per kilogram daily, dose according to the body weight. (Daily amount can be divided into 1~3 times)
Dosage for cats:
2 chews per kilogram daily, dose according to the body weight. (Daily amount can be divided into 1~3 times)
Antrodia Camphorata: Supplement for Cancer Prevention
Antrodia Camphorata is a natural rare and precious medicinal fungus that only grows in Taiwan. Noticing the health benefits it provides, Vetco has customized it into the tablet with capsule formulation for pets which makes it easier for feeding.

Rich in Triterpenes which helps in cancer fighting and Polysaccharides which strengthen the immune system. Overall, this product can help in cancer prevention.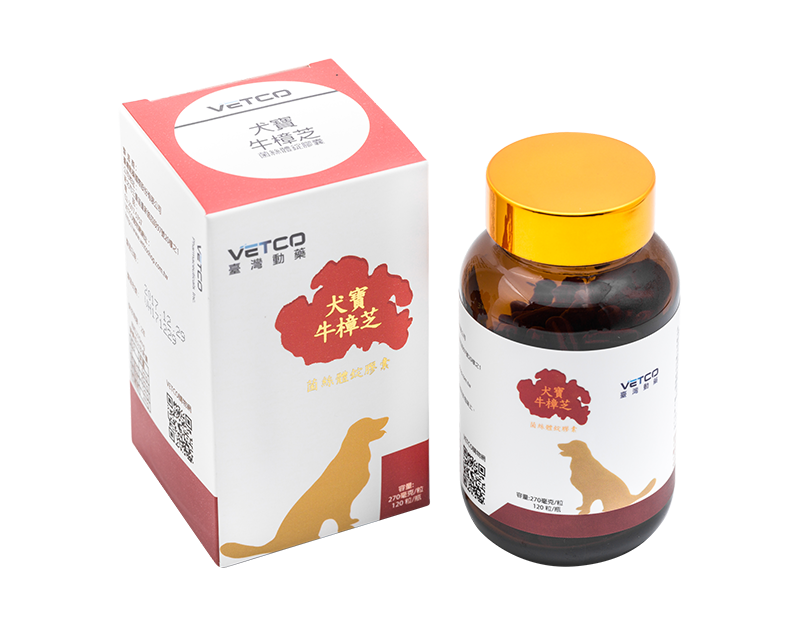 Pets with the regularly seen symptoms below are recommended to take Antrodia Camphorata:
Aging

Fatigue, decreased activity, shows lost interests in activities which used to entertain them

Gradually losing appetite and weight

Unusual smell

Continuously or repeatedly limp

Unknown lump on the surface of the body, or even enlarged rapidly, bleeding or become ulcerous

Ulcer fail to heal

Signs of acataposis, dyspnea, dysuria or dyschezia
Recommended Dosage:
Under 5KG: 1 Capsule/Day

5-10KG: 1 Capsule/Time, 2 times/Day

More than 10KG: 2 Capsule/Time, 2 times/Day
Precaution:
This product is not a replacement for medicine.

Antrodia Camphorata is of cool-natured in Chinese Medicine, please consult with your veterinarian before using.

Please seal tightly after opening.

With a 2-year expiration.
Omega PLUS: Supplement for Nutrition Supply After Surgery
Omega PLUS contains fish oil and amino acid, able to abate the progression of cancer cachexia.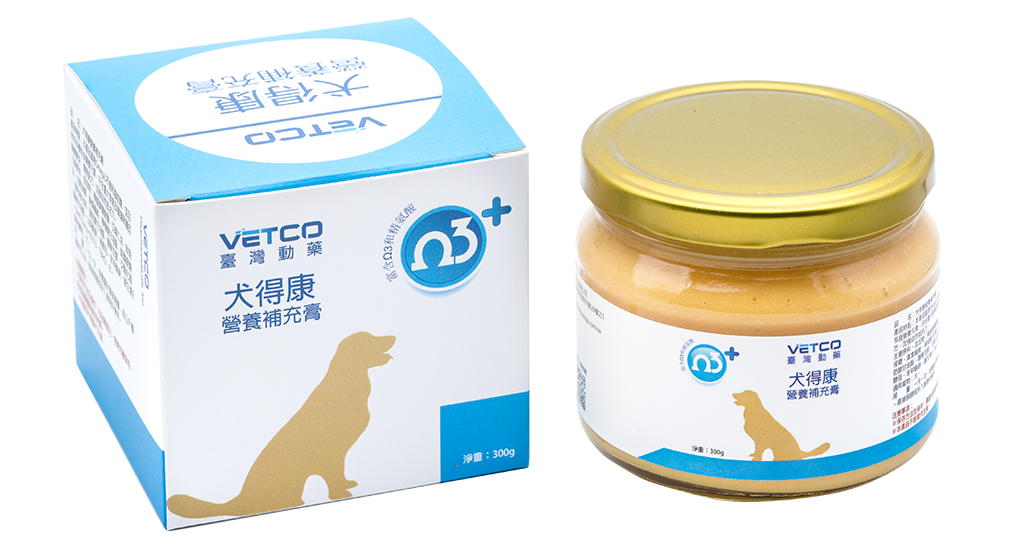 It is packed with these nutrients:
Salmon oil & Flaxseed oil- high in Omega 3, helps in anti-inflammation, inhibit tumor growth

Arginine- improves loss of appetite condition, regulate immunity

Selenium Yeast- anti-oxidation

Glutamine- improves intestinal mucosal barrier function

Astragalus fiber-immunity enhancement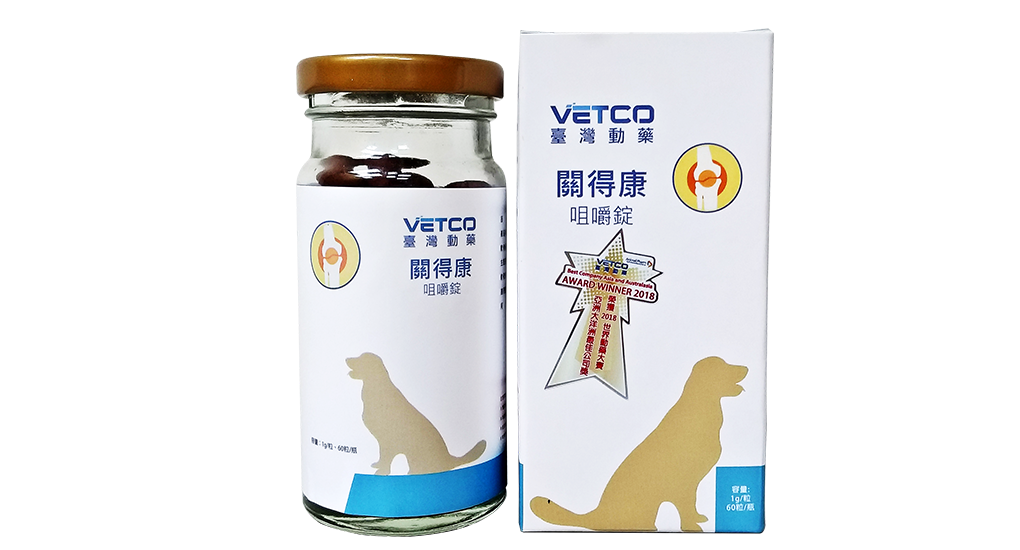 Highly recommended for dogs with the following symptoms/conditions:
Aged

After surgery

Poor appetite

Soft stools and diarrhea

Poor digestive function
Recommended dosage: 2ml/kg, SID
Remark:
This product is not a food replacement.

Do not store under high temperature, humidity, and direct sunlight.

Animals with impaired liver function shall be cautious while using since it contains glutamine.